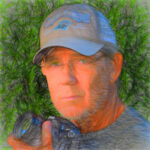 My name is Richard Farrington. I live in the Comox Valley in the picturesque province of British Columbia, from where most of my images originate. I've been shooting and selling stock photographs for over 30 years; long enough, I think, to be dubbed a veteran. I prefer to shoot mostly natural landscapes, seascapes, mountain scenes, and classic cars, although any interesting subject is worthy of my attention. These days I'm delighted to find myself fully engaged in amazing, new technologies: smart, digital SLR cameras and mind-boggling photo-management computer programs like Photoshop which have given birth to digital and photographic art.
I'm grateful that I have been blessed with a simple talent: the ability to see the quintessential elements of a pretty picture. When I'm photographing, I follow my eyes. And when I'm at my computer, I transform my camera's images into digital compositions, which is what my photographic art is all about. My style is diverse, sometimes wild and funky, splashing bright colour on the canvas. I strive to make my images one-of-a-kind, and I've categorized them all here.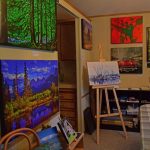 It all starts with the shooting. Shooting photos that is.
I got into landscape and nature photography in a big way over 30 years ago. I shot mainly for tourism publications, postcards, calendars, and greeting cards. Then, in 1992 I got my first computer. It didn't take long before I discovered the Internet, which opened up a whole new world for me. The next big happening for me was buying my first digital camera. The advent of the digital single lens reflex camera (DSLR) truly revolutionized photography. It wasn't long before I began using Photoshop as a "darkroom" for editing my digital photographs. To my delight, I found that Photoshop also allowed me to experiment with image manipulation, and I began making weird and wonderful artistic creations on my computer. Over the years, I've collected a significant number of computer apps, add-ons, and plugins, and literally thousands of filters.
And kept on creating photographic art over the past several years.
Of course, creating a fine art image this way is an entirely different process compared to that of an oil painter, for instance. You might think what I do is a piece of cake. Anyone can do it with a smart phone and a few fancy filters. Well, nothing is further from the truth in my case! For me, creating photographic fine art an intense and lengthy process for each individual piece (you can read about it here).
After several years working in Photoshop, I've ended up with a collection of over 200 fine art images in my portfolio. I have made a good number of my best photographic art images into CANVAS GALLERY WRAPS, perhaps the most popular form of hangable art with consumers today. With no outside frame required, this method of presentation results in a dramatic display for hanging in any home or commercial environment.
How does each piece get transformed from a digital image on my computer to a gallery wrap? It's all done locally. Here's how:
First, the image I've created is rendered to a high resolution digital file on my computer. Next, it is printed on canvas, to make a giclée print. The term giclée refers to a special printing process that produces vibrant prints with a large format printer. Then the canvas is mounted and stretched by me right here in my studio. The archival life is a minimum of 100 years. The stretcher bars are made from the best grade of North American basswood.
Voilá! If you have any questions or comments about my art, please feel free to reach out to me.